INDIAN TRAVEL GUIDE
North India Travel Guide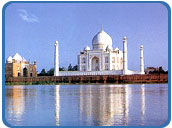 AGRA
Agra is famous as being home to one of the seven wonders of the world-the Taj Mahal. The architectural splendour of the mausoleums, the fort and the palaces is a vivid remainder of the mausoleums, the fort and the palaces is a vivid reminder of the capital in the 16th and early 17th centuries.
DELHI
One of the most fascinating aspects of Delhi is the "visibility" of its historic past. Were it not for the demands of urbanization, large portions of the city could well be earmarked as archaeological parks. This is because the rulers of successive dynasties between the 13th and the 17th centuries established seven cities in different parts of Delhi. A chronological review of these cities fortunately also serves as a suitable itinerary for tourists and highlights the important monuments amongst the 1300 officially listed.
JAIPUR
Jaipur is 260 km from Delhi and 240 km from Agra and forms the most chosen tourism golden triangle of Delhi, Agra and Jaipur. It a bustling capital city and a business centre with all the trapping of modern metropolis but yet flavoured strongly with an age-old charm that never fails to surprise a traveller.
KHAJURAHO
The temples of Khajuraho are India's unique gift to the world, representing, as they do, a paean to life, to love, to joy; perfect in execution and sublime in expression. Life, in every form and mood, has been capured in stone, testifying not only to the craftsman's artistry but also to the extraordinary breadth of vision of the Chandela Rajputs under whose rule the temples were conceived and constructed.
The world renowned temple town of Khajuraho in Madhya Pradesh designated by UNESCO as a world heritage site for its archaeological and historical monuments.
UDAIPUR
The foundation of the city has an interesting legand associated with it. According to it, Maharana Udai Singh the founder was hunting one day when he met a holy man meditaing on a hill overlooking the lake pichhola. The hermit blessed the Maharana and advised him to build a palace at this favourable located spot with a fertile valley watered by the stream, a lake, an agreeable altitude and an the advise of the hermit and founded the city in 1959 A.D.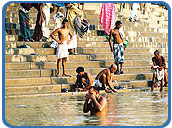 VARANASI
One of the earliest descriptions of Varanasi is found in the Buddhist scriptures as also in the epic, 'Mahabharat'. The 'Pali' version of Varanasi was 'Baranasi' which ultimately gave birth to the name 'Banaras'. According to the 'Vamana Purana', the Varuna and Assi rivers originate from the body of the primordial person at the beginning of time itself. The tract of land lying between them is believed to be the holiest of all pilgrimages. The holy land between these two rivers is 'Varanasi'. Varanasi, also famous as Kashi (Derived from the root 'Kas' - to shine) is called the city of spiritual light.